Jon McTaggart Joins Platinum Group as Executive Consultant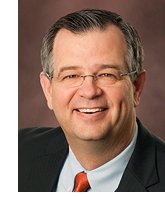 Former American Public Media Group President and CEO Jon McTaggart has joined Platinum Group, where he will advise and coach business owners and principals in a variety of areas including growth strategy, founder- and CEO-transitions, board development, cash flow growth and profitability, operations improvement and capital raising.
"I've been blessed for more than 35 years with mentors and by working with really talented leaders and colleagues," Jon says. "I'm at a point in life where I want to share that and help where I can—to help other leaders in ways I've been helped, particularly those who are navigating some pretty big challenges or opportunities."
Jon led the American Public Media Group (APMG) until 2021, serving as president & CEO for more than 10 years. Prior to becoming CEO, he was chief operating officer for eight years and was deeply involved in building Minnesota Public Radio and APMG since 1983. In addition to his time at APMG, Jon founded and led a private hospital foundation in Pennsylvania and was vice president for advancement and university relations at La Sierra University in Riverside, Calif. He also advised founders, CEOs and directors of private companies and non-profit organizations as they wrestled with strategic business disruption, prepared for transformational growth or managed through founder or CEO successions.
In addition to joining Platinum Group, Jon has been invited into several business advisory roles in Minnesota and North Dakota since he left APMG. He and his wife, Debbie, live in Fargo.
For more information or to run a question by Jon, email jon.mctaggart@theplatinumgrp.com or
call 701-707-8071.