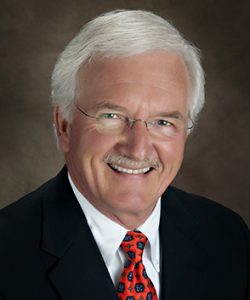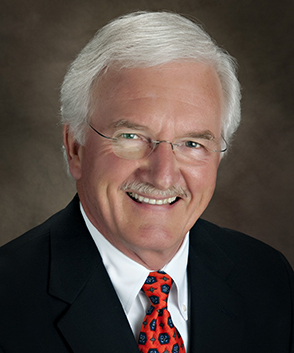 Healing and Economic Transformation in North Minneapolis
By Steve Coleman
What was your silver lining from our recent pandemic storm?
It's no surprise as months passed, how many of us became eager to do something positive. Early in the pandemic, several Platinum partners and other business colleagues gathered in a generosity circle to explore how we could be more active doing good for our city and region. This evolved into Community Ventures, a band of business advisors who are committed to walking with deserving social entrepreneurs, non-profits serving the community or under-resourced ministries. Here's an example that I hope will stir your heart and lift your hopes. It's about a community redevelopment being led by an organization called Love Minneapolis LLC.
North Minneapolis has a history of strong neighborhoods—some a model of healthy civic involvement, a few dangerous, and others a mixture of both. The intersection of West Broadway and North Lyndale Avenues is one of the busiest on the Northside. Over the years, this site has been a natural gathering place and has experienced a lot of positive community spirit. It also has seen its share of unhealthy behaviors and, during the summer of 2020, significant civil unrest.
Merwin Liquors, which owns a lot located on the northwest corner of this intersection, is looking to relocate in large part because of how much its parking area has become a hot spot for crime, multiple shootings and other violent incidents, including the death of a women in 2021.
A block away from this intersection is Sanctuary Covenant Church, a healthy growing faith community of all ages and cultures; 40 percent of its members come from the neighborhood, others from Minneapolis and a wide cross section of suburbs. It has long had a vision of restoring peace and safety at W. Broadway and N. Lyndale, and as the pandemic isolation began to recede last year, it decided it was time to act.
This concept of redeveloping the Merwin property stirred broad interest. Many organizations committed to community redevelopment expressed a willingness to help, but one challenge was the realization that funds from a public or government source can't be granted to a faith-based entity. Undeterred, church members joined by community leaders and citizens, developed a work-around plan: create a business that can receive community redevelopment funds. Love Minneapolis now exists as a non-religious, non-profit business. Its mission is to "be a catalyst for healing and economic transformation in North Minneapolis, beginning with the corner of Broadway and Lyndale Avenues." Its goal is to reimagine, redevelop and bring healing and opportunity to that block, and to the broader community.
To help create Love Minneapolis, a pro-bono team of five volunteers from Deloitte facilitated a six-month process in early 2021 to form an 11-person board of directors with member profiles closely aligning with the demographics of the community Love Minneapolis is serving. I am proud to say I am on this board. It has five committees focused on community-facing initiatives, and a professional project manager from Sanctuary Covenant, who brings leadership and communication expertise.
This year, two significant grants have been received. The first was $700,000 in federal community redevelopment funds endorsed by the City of Minneapolis to purchase of the land and building from Merwin. This has to wait, however, until Merwin finds a new home (it is challenging to do this given how tight the city zones where liquor stores can operate). Once Merwin establishes a relocation plan, Love Minneapolis can acquire the property with the goal of having developers engage with the community to shape a potential multi-faceted mixed use neighborhood environment.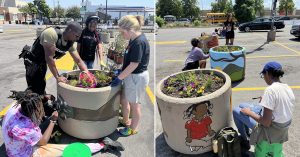 In the meantime, the idea came up to beautify Merwin Liquor's parking lot. The City of Minneapolis agreed to authorize the closing a parking lot entrance from W. Broadway, and Love Minneapolis developed a plan to populate areas in the parking lot with garden boxes and flower planters. Truckloads of lumber, dirt, cement planters, gravel and potted vegetables and flowers were delivered. On June 18, a group of 20 board members and volunteers assembled boxes, filled them with dirt, planted vegetables, situated concrete planters, filled them with gravel and dirt and planted flowers. By 11 a.m., the work group had grown to 40 as neighbors saw what was happening and came eager to volunteer.
The second grant received $72,000 from a Minneapolis neighborhood renewal fund and was used to hire four young men from the neighborhood whose summer job is being present on the site, telling people about the vision to redevelop the lot, and provide tangible evidence of the positive change that is possible and happening at this Northside corner.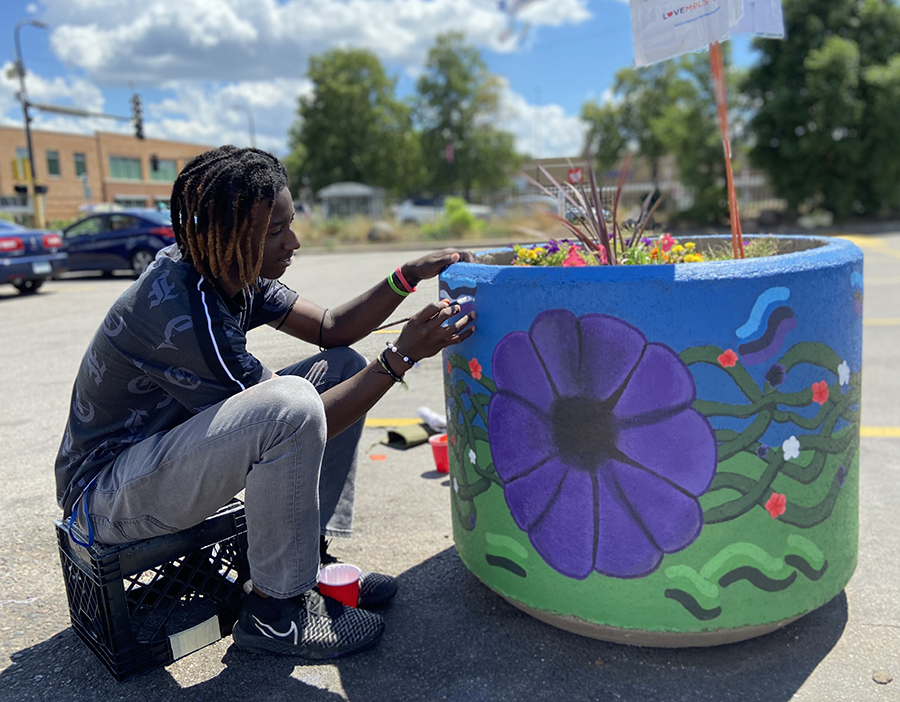 It's now been three months since the Love Minneapolis garden and flowers grew out of a parking lot. One garden box was destroyed, but a day later several young men from the neighborhood rebuilt it. The early crops of vegetables have been harvested and shared with neighborhood groups. And hope is growing that Minneapolis officials will actively explore ordinance changes to enable moving the liquor store to a different location. Our Community Ventures group is developing personal relationships with deepening trust among five or more multi-cultural entities. We bring our business expertise to these under-resourced enterprises in expectation they will receive more resources and skills to thrive as examples of Platinum's core purpose – meaningful capitalism.
Stay tuned for more news of this remarkable redevelopment and rebuilding in North Minneapolis. For more information on latest progress, go online here.
The Board of Love Minneapolis will be on-site again Saturday, September 10, for Open Streets Minneapolis—West Broadway from noon to 3 p.m. showing our continuing belief in this community redevelopment initiative.